My first thought upon receiving this book was, "Wow! That's a thick devotional!"
My 2nd thought after thumbing thru the pages:
"This would make a fabulous gift for anyone!"
Though I begin my day with a devotion and bible reading, the idea of closing the day with a devotion appeals to me. After just a few days with "Evening Prayers," I find myself looking forward to sitting down with this book to give myself a moment of quiet to reflect upon the day's events.
Each page is titled with day and month, a bible verse below that, followed by a prayer. The prayers are straightforward, seem to be written from the author's heart, though it's not overly-poetic with flowery words, which gives a mass appeal...as I've spied Son#1, Son#2, and LittleGirl leafing through and reading the day's prayers as well.
If you're seeking to connect with our God at the end of the day, looking to round out a gift basket, or wanting to contribute a book to your church library, "Evening Prayers" fits any of these needs. Truly a wonderful gift for any time of the year, though if you're a bit TypeA (like me!) starting the book on January 1 soothes the soul even better...so I encourage you to find a copy for yourself or loved one before then! ツ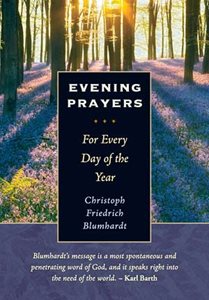 Disclosure: I received my copy of "Evening Prayers" from Plough Publishing. I was not required to give a favorable review, but I really did like this book!
ツ