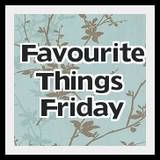 I'm going to jump right in and tell you my
Favourite for this Friday
with no preamble whatsoever, because it is the most fantastical thing this Type-A-girl-who-has-to-compartmentalize-everything-she-sees-so-her-mind-won't-explode-from-the-millions-of-thoughts-running-through-it-every-waking-second-of-her-day. Oh, I guess I did have a preamble.
My Favourite Thing this Friday is...

LOVE it! For all the reasons stated above,
Pinterest
is my Favourite this Friday and every day.
Warning: Though Pinterest is free to use, it comes at a high price. You will become addicted to finding items to place on your Pin boards.
What I love most is that Pinterest has a little "Pin It" widget that can be placed on your Explorer bar. Whenever I'm reading some fabulous blog, and see something I want to review again or save for later to make...whatever the inspiration is...I just click on the "Pin It" widget, and IT PINS IT TO MY PINTEREST BOARD!
Genius these creators of Pinterest are, genius. Have you tried it? Am I following your boards? Would you like to try Pinterest? You'll need an invitation to join the fun of filing. It's easy. Just let me know and I'll send you an invite. ☺
To see all of Randy's Antics, visit my Pinterest page:

Randy the Elf


See? I can even post Randy's snaps all in one place!
LOVE Pinterest!
Follow the link, leave a comment, and you'll be entered
What is your Favourite this Friday?
Happy Friday!