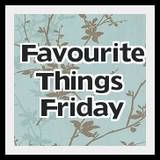 Be sure to stop over at Shay's to see all
the Favourites of this Friday!
Have you heard of the
Elf on the Shelf
? This little guy wasn't around when my children were very small. With only one "Believer" left (and desperately clinging this year!), I've been looking forward to moving on from the whole Santa thing. Well, my boys are having fun building up LittleGirl's dreams of Santa. They recognize this is probably the last year before she is inducted into the
Secret Santa Society
.
Back to the elf...apparently, there are many children in LittleGirl's class who have elves in their homes. Even their classroom has an elf! She began asking this week when our elf would arrive. Honestly, I hadn't planned on purchasing an Elf on the Shelf. Son#1 quickly interrupted those plans.
While running errands yesterday, Son#1 called to tell me he had informed his sister that I had gone to visit Santa at the North Pole to pick up our elf. Yikes! Shortly after that call, DH and I ran into an old friend. He happens to have a very deep and booming voice. My phone rang again, and it was LittleGirl. She heard the voice, and just KNEW it had to be Santa. She asked if she could PLEASE to talk him. Our dear friend took the phone and chatted up LittleGirl. She was thrilled...and even fessed up to some naughtiness. ☺
We were close to home when all this transpired. And being the slacker creative Momma that I am, I really didn't want to backtrack to town. Umm...this was probably one of the worst decisions I've made. I stopped at every store I thought might have one of these elves, and simply couldn't find THE Elf on a Shelf. In a last-ditch effort, I finally found an elf...though he's not like the original.
We arrived home, and LittleGirl wanted to know all about our visit to the North Pole. Where was our elf? Did we pet the reindeer? Was Mrs. Claus baking cookies? Why didn't our elf look like the Elf on the Shelf from her class? Bloggy friends, like any Momma caught in a pickle, I told a huge Whopper of a story to my daughter. I told her the Elves on the Shelves all had a stomach bug, and couldn't travel with us. Santa felt so bad, he sent one of his Helper Elves instead.
Meet Randolph, or Randy for short. Santa's warned us that Randy tends to be mischievous, so we need to watch out for his antics. Randy got his magic last night and flew off our bookshelf. We had a hard time finding him this morning, but we finally did. Here's where we found him...
LittleGirl arose this morning & spotted Randy
up in our Christmas Tree.
Oh, to hear her tinkling giggle, and see that bright smile!
Have you heard of Elf on the Shelf?
Got an ideas of the mischief Randy can get into?
(We have 24 days to move him around!)