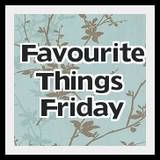 This FTF is a repeat from last year,
as it is still a most-definite Favourite of mine. ☺
Pulling out the Christmas decorations exerts not only physical muscle, but also taxes my brain as it involuntarily strolls down Memory Lane. As I remove items from their tissue-wrapped cocoons, visions of Christmases past dance through my mind. One particular keepsake holds no memories of Christmas with its original owner. Nonetheless, it is a special treasure to me.
This Christmas memento belonged to my great-grandmother. Though there is no photographic evidence, I know she held me in her arms at the beginning of my life, just as hers was coming to an end. I was two-weeks old when she died. I also know I was two weeks early in arriving. Perhaps this was God's way of giving my Mom someone to cling to as she was losing someone precious to her.
The Christmas treasure sat on my Mom's piano for years. She would speak of her grandmother, smile while remembering a snippet of their life together, and touch the keepsake. This little reminder of the past would not be noteworthy to most people. Many would pass it up if it were sitting on a thrift store shelf, though I know its value is not measured in dollars.
I think this little token once held a plant or flowers, maybe given as a well-wishing gift during the Christmas season. Today, as it sits upon my piano, I've given it a new purpose. It brightens up our holiday by holding Candy Canes, which are given to our holiday visitors. Though I have no recollection of the woman who first owned it, I know when I give it a touch, time is erased and my great-grandmother and I are connected through our hearts. That's why my little Christmas Caroling Girl is one of my Favourite Things.
Do you have a special family Christmas keepsake?