I still have a serious case of writer's block! What to do, what to do? Thankfully, I have some blogs to look at for heart inspiration. Today's favourite is some of my favorite inspiring blogs! I'm
stealing
sharing their bios and links, and imagine these blogs will become some of your favourites too!
Finding Joy
- Rachel is a mom to seven. Yes, seven. Three girls and then four boys. And ALL the boys are seven and under. It's crazy busy. I'm married to an amazing man. He's a cancer survivor. My youngest son, Samuel, recently was diagnosed with Celiac Disease. I'm an advocate for Celiac Disease awareness. I'm a lover of the Lord. He's my all in all, my strength, and hope, and life. I homeschool. Love it....most days. I love to write, I've blogged for almost five years, I've played piano since I was five, and have a passion to laugh. Life is short. And a gift!
Rachel also happens to be an amazing photgrapher! Her photos are so inspiring. Be sure to stop by and see her. You'll be glad you did. ☺
Surrendered Living Now
-
Mrs. Mary Joy Pershing
is happiest when she is ministering at home serving God as a help-meet to her husband Will, encourager to her new daughter Annelyse, and home educating/mothering Joshua and Michael. She also enjoys studying God's Word, singing, reading Titus 2, family discipleship and home educating books and blogs, cooking, gardening, crafts, basic sewing, learning to quilt, and spending time with her husband and family at home.
See the button in my right sidebar? Mary Joy is hosting an Advent series next week. Come join us! Mary Joy was one of my first bloggy friends I met through Seeds of Faith. I just love her. ☺
Mom's Mustard Seeds
- Rebecca is a child of God…a wife, and a homeschooling mother of three children. I created this blog to possibly help other mothers/fathers find peaceful days with their children. No, our days are not always peaceful…but, with God leading our way, we find His peace in ways we never imagined!
Rebecca has been writing a series on Growing Leaders. She shares her heart in these posts, and you will be greatly encouraged. She's just as inspiring on her blog as she is in real life. I had the opportunity to meet her (my first bloggy friend meet-and-greet!) in Atlanta. It was an instant connection, and I'm blessed to call her friend. ☺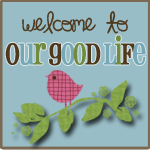 Our Good Life
- Aurie a pastor's wife, a "retired" youth minister, and probably the most relaxed mom that you'll ever meet! My blog is filled with quips about my life as a stay at home mom to our two girly toddlers, our two wild & crazy dogs, and one cranky cat. I am married to my best friend and consider the simple life that we've created absolute bliss! Many of my posts are stories about parenting our girls, traveling and vacations together as a family of four, and the importance of our faith. We are currently embarking on a new path of fostering to adopt medically fragile infants and are thrilled and ready to see where God leads us!
Aurie is one of the most amazing Moms I know. I only wish I'd had it as 'together' as she does when my kids were smaller. She's a hands-on Mom full of great ideas. She's also a fabulous 'tweet' friend. ☺
Where do you go when you're looking for inspiration?
Share some of your favourite blogs, please!
Be sure to stop by the always inspiring and fabulous