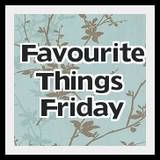 Stop by and visit all the sweet bloggers who reveal their Favourites for this Friday.
My favourite this Friday isn't tangible. It's the euphoric feeling brought on by happiness. I LOVE to FEEL happy! Do you ever just stop and think about happiness and how it makes you feel? I seem to breathe a bit easier when I'm happy. The world seems brighter and more cheerful, and my surroundings become more pleasant.
Yes, the feeling of happiness is definitely a favourite of mine. ☺ This morning, I was a bit bleak and bleary...until I opened my email. With exciting news from a bloggy friend, that feeling of happiness changed my Friday into a most joyous one.
Y'all...I won a giveaway! I won a
Forever Gold Series Vacuum
from Oreck and my sweet bloggy friend, Rebecca, at
Mom's Mustard Seeds
. Have you been to Rebecca's blog? Please go give her a visit and follow! You'll be so glad to call her bloggy friend. I met her IRL in Atlanta this summer. She's the real-deal when it comes to sweetness and sincerity. We had an instant friend connection, and seriously, I just love her. Rebecca is fabulous! ☺
This is a definite God-send, because our little vacuum has been on its last legs, um...suck, for quite some time. We've looked at purchasing a new one, and honestly, just didn't have the chunk of cash for a decent vacuum. I wasn't even going to enter Rebecca's giveaway, because we have hardwood floors throughout our home. I didn't think I could use that vacuum. When I found out I could, I entered. With 363 comments entered, I honestly didn't think I would win...but I DID!!!!
So, I'm giggling and giddy this Friday...and loving that feeling of happiness. Bring on the Happy! ☺
What's your favourite this Friday?
Have you ever won a blog giveaway?
Happy Friday!