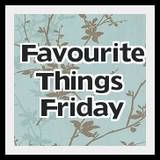 Welcome Home, Mrs. P!
So glad you're home and hosting another round of FTF.
My favourite this Friday is just a little old everyday item. It lifts me up when I need a lift. It brightens my mornings. It fills me with content each and every day. It reminds me to think of every day as a new day. To me it's like an old friend...faithful and well-loved. It sets my day to rights. If I must use a replacement, the morning just seems out of sorts. My favourite thing this Friday is my Coffee Cup. ☺
Do you have a special mug you use each day?