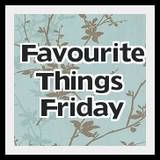 Oh, dear, I am SO late to the FTF Party!
discover the favourites everyone has this Friday.
Psst...even if you don't play FTF...stop by and wish Mrs. P
a very Happy Birthday!
This Friday my favourite is my grandmother. I suppose she'll be celebrating in heaven tomorrow; and I know it would have been a fabulous event if she were here on earth. Tomorrow would mark her 88th birthday. Now, I'm not going to get all sappy and melancholy, cause Grandma wouldn't like that. She'd be very matter-of-fact and pretty much tell me to suck it up and deal with it...which is one of the things I dearly miss about her. I could count on her to tell it to me straight.
I'm fortunate that I have oodles of memories with her. I remember sitting at her kitchen table, playing with her 'homemade glue' of flour and water. I remember snuggling up close to her in bed, inhaling her sweet scent of Ivory soap and Vaseline lotion (the original yellow stuff!).
Her dinners were legendary. The big red cloth was spread over the table, places were set, and succulent dishes filled the center. There would be fried chicken, mashed potatoes with creamy white gravy made from her cast-iron skillet, corn, green beans, congealed salads, and then you'd see the relish trays. Those cut-glass dishes held olives, pickles, carrots, and deviled eggs. The butter was set in its little yellow dish, accompanied by a stack of Roman Meal bread. My mouth's watering just thinking about it.
After dinner, Grandma would clear everyone out of the kitchen and proceed with the cleaning. We'd sit in the Front Room, while she washed every dish and utensil by hand. She had an automatic dishwasher, and never used it. In fact, I think she used it for grocery-sack storage. ☺ When finished with the dishes, she'd join us in the Front Room and entertain us. Most of the time we'd beg her to do the splits.
I'm still blown away that she did this extraordinary feat every time we asked.
Wish I could do it. Can you?
And while I could go on and on, waxing poetic, I won't. She was fabulous, cause she was my Grandma. I'm blessed she was mine. I loved her and she loved me. Grandma was a friend, mentor, and keeper of my secrets. That's why Grandma is my Favourite Thing this Friday.
Grandma and Me...our last time together.
Grandma as a girl
Do you remember your Grandma?
What's your favourite Grandma memory?