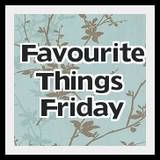 for a peek at everyone's Favourites!
While there was no crafting going on this week, there was some organizing in it's place. My favourite thing for this Friday is cleaned-out kitchen cabinets! It's my favourite for several reasons.
It's an easy project...Pull everything out, wash down the shelves, throw out the expired, put what remains back in a tidy manner.
The 'baking' center
This can be accomplished during school time. The boys were hard at work on their lessons, and I was able to complete the task in about an hour.
The 'cooking' center
Organizing the foods helps me know what we have and what we might need.
The 'pantry'
Even though no one sees it, I feel better having the cabinets in order.
Bestill my heart...orderly cabinets!
What makes my kitchen cabinets my absolute favourite are the inside doors. They contain little 'lovelies' my children have created over the years, as well as inspirational thoughts.
From Son#1 during his 3rd grade year
LittleGirl's portrait of Momma ☺
A devotional that really spoke to me one morning
Can't wait to get started on the lower cabinets this weekend! It feels so good to get it all cleaned out and put back in working order. That's why Organized Kitchen Cabinets are my Favourite Thing this Friday.
Do you ever have to re-organize your Kitchen Cabinets?
Do you have anything attached to the inside door?
Hop on over to QIMP and discover what others are saying about their Favourites!
Happy Friday!