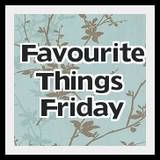 for another round of Favourite Things Friday
.
Ack! I overslept this morning! All that means is that I had no Quiet Time this AM. I'd much rather wake to a quiet house at 5AM, than to have LittleGirl standing over me at 6:15 asking what's for breakfast. ☺ Guess I shouldn't have stayed up to see who was "Auf'd" from Project Runway.
Today my favourite is an old letter. This letter is tucked into my desk drawer and resurfaces from time to time. When I find the torn and tattered envelope, I slip my fingers inside to draw out its contents. While it's simply a piece of standard ledger paper from an old notepad, the words scrawled across the page are priceless.
It records a piece of my history. It's tangible evidence of a life I scarcely remember. If I think back, I believe I was staying at the farm with Grandma and Grandpa because my sister, JuJu, had arrived. According to the date, she would have been about 6 weeks old; and I would be a bit over 2 years of age. Even though I know I was the 'perfect' toddler, I'm sure Mom needed a break; hence, the trip to the farm.
I love that my brother, in kindergarten and about 5 years old, obviously dictated the letter to Mom. He did write his name and draw me a lovely picture of a spider. ☺ I love that his memories of the farm are all over the words of this letter. Truly, the one thing he enjoyed when visiting was riding Trixie, his beloved pony.
Mostly, I simply love that a scrap of paper and tiny envelope has the power to bring memories of people and places I hold dear to my heart flooding into the forefront of my mind. That's why my little old letter is one of my Favourite Things.
Funny that postage was only 8¢ and there was a reminder to use a Zip Code!
I'm hoping this linky thing works, as I stole the coding from Shay's webpage. ☺ If it doesn't, please stop over at
Quilting in My Pyjamas
and link up your Friday Favourite!