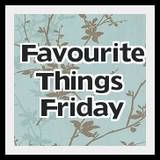 What a week! Fabulous
family time at the range
,
splendid sunsets after a storm
, and all the in-betweens that make up life zipped past at lightening speed leading up to today. It's Friday, and time to play along with
Mrs. Pyjamas
and friends in another round of
Favourite Things Friday
.

Photo from Scrapgirls.com
Before I get to my favourite, can I just tell you I had the BEST day yesterday? It entirely made up for the yucky one I'd had the day before. Yesterday, Son#2 and I went out on an AM date. We spent morning chow time at the local IHOP, drizzling butter pecan syrup on waffles and pancakes. Yum! On the way out the door, Son#2 spotted a pay-phone. Very intrigued, I explained how way-back-when people didn't have cell phones. If they needed to make a phone call, they'd plop a dime into a pay-phone to connect with someone. We went over to use this ancient machine (and watch my jaw drop when discovering the 10¢ fee is now 50¢) and dial up Daddy. Alas, there was no dial tone.

We ran some errands after our breakfast date, and returned home to collect LittleGirl and a heavy bag. We proceeded to our destination. Upon arrival, we opened the bag and pulled out our roller skates. We rolled around that rink for two hours...well, I rolled around the rink for two hours. I out-rolled my kids! After 90 minutes, they'd rather play the arcade games. ☺ All in all, it was a cool way to spend a hot afternoon. And guess what? Roller skating burns LOTS of calories. I calculated and was delighted to learn my AM meal was burned off by my afternoon activity.
My already great day turned to fabulous when I got to spend time with my Mom. In a moment of spontaneity, we decided to go on the hunt for a particular Bible to add to Mom's collection. (I think there's a blog post I need to write about her many Bibles ☺). We stopped at several book stores, though we didn't find what she wanted. We also stopped in at Hancock's where I found some gorgeous fabric to make a new dress. Bonus points - on sale - 4 yards for $16! Could the day get any better? Yes! Project Runway, Season 9 premiered last night! I tell ya. It was a dynamite day! With no photos...so sorry. Bad blogger!
On to my Favourite Thing for this Friday! I love music. It's been a huge part of my life, from even the earliest of memories. I listen to music, I play music, I sing music. I don't think I could ever choose just one song as a lifetime favourite; however, I have favourites for different seasons of my life. Today's favourite is a song by
Laura Story
.
Blessings
has everything that makes up a great song. The lyrics are thought-provoking, the instruments are simple, and the melody is in my voice range. ☺ This means I can sing along and belt it out whenever the mood strikes. I hope you enjoy my
favourite
for today. Be sure to stop by
Quilting in my Pyjamas
to see the others' favourites!

Do you have a favorite song?
What do you love about it?

Happy Friday!