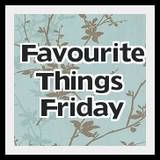 Really? It's Friday already?
Well, okay...if you say so, I guess I'll believe it.
Where did my week go?!?
what everyone's Favourites are for this Friday. ☺
Today, my favourite is plural. My Favourites are my FTF friends. Every week, I have the opportunity to catch up with bloggy friends from all over the world. I've met some lovely people, and I'd like to introduce a few this week. Let's start with our hostess, Mrs. P aka Mrs. QIMP aka Shay.
Don't let this quiet and serene photo fool you. Shay is lively at her blog,
Quilting in My Pyjamas
. She looks at life with a sharpness and irreverence that will make you full-on giggle, laugh, and even snort. Her sense of humor rivals that of any professional comedian.
And what an amazing crafter/quilter! I've yet to meet someone who produces as many quilty/crafty items in a weekend. What Shay can do in a few hours would take me a lifetime.
Her generosity and sweetness spill over into 'real' life. Just ask any of her bloggy friends. By serendipity I found her in Bloggerville, and I've been blessed by her friendship ever since.
Ms.
Sarcastic Quilter
isn't all that sarcastic. ☺ I love Beck's blog because I get to vicariously travel to some fabulous quilt shows. She takes fabulous photos of the quilt show she visits! She also produces some gorgeous quilts.
I first knew Michelle as The Prairie Quilter, then the Desert Quilter, and now she is appropriately,
The Gypsy Quilter
. ☺ Her travels inspire her quilts, which are beautiful! She's one of the sweetest people I've met in Bloggerville. Perhaps that's because she has Kansas roots. ☺ I love to read about her latest traveling adventures with her cousin, and see how those travels help her create with fabric. Michelle is definitely an inspiration!
This girl, Miss Sara, of the
Lone Sock Productions
blog, makes me laugh like no other! She's young, and hip, and fresh, and Aussie. She's snarky in a good way, entertaining her readers with the exploits of her days and nights. ☺ I love her zest and exuberance...and her quilts reflect that. They're bright, and full of life, just like Sara.
You'll need a bib when you visit Kirsten's blog,
Kirsten's Cooking
! Oh.My.Golly. I've yet to see more deliciousness on another blog. Kirsten loves to cook, bake, and create in her kitchen. She is a crafty food artist who generously shares her recipes, and takes the time to show you step-by-step how you can create scrumptiousness too. She's generous with her time too. She spent quite a bit of time helping an unknown blogger's parents map out their vacation to her state. Bloggers are the best, and Kirsten is at the top of the list! ☺
There are so many more FTF friends I want you to meet. I think I will share them with you next Friday. Don't forget to hop over to Shay's and see everyone's favourites!
Do you consider your Blogging Buddies your friends;
or do you see blogging as simply a creative outlet?
Happy Friday!