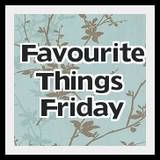 Don't forget to visit my
GIVEAWAY
page.
It's open to anyone, any country.
All you need to do is leave a comment. ☺
Can you believe it's already Friday?
Time to link up with Mrs. P and find out
As I sit on my back patio, the sun is just peeking through the trees. My world is peaceful as I await the arrival of my sleepyheads. Every morning this past week, I've been grabbing my coffee mug, Bible, Study of John, and Devotions Book and having my 'Quiet Time.' Today, it's anything but quiet as the birds are having some party this morning. I've heard more twittering going on from a variety of birds. After singing their morning praises to our Creator, they must be relaying news to all their nest-mates of how they weathered the little rainstorm we had last evening. Either that, or there's quite the gossip session going on about Ms. Thinks-Her-Feathers-Are-All-That!
I love listening to the birds, though they are not my favourite for this Friday. Today's favourites are my Cookbooks and Recipes. I have quite the collection amassing on my bookshelves. Here's just one little shelf of my most-reached for cookbooks.
I can tell you where I bought them, or from whom I received them. The vintage cookbooks were picked up from thrift stores or tag sales. I refer to the Betty Crocker Cookbook often, because the recipes make good use of items I typically have on hand in my kitchen cabinets. The silver Better Homes & Garden Cookbook is a gem because it dates back to the 1930s. I love it, because every time I flip through the pages, I find a treasure tucked in its pages. Just the other day, I found a typed letter from 1941 regarding the need of British children who were coming to America because of the war. The woman to whom the letter was sent was asked if she would consider adopting one of these children. What cool history!
Do you see the book that reads "Popular Greek Recipes" ? I've used that so much, the cover has fallen off! It has authentic Greek recipes that I use to instill a little of my children's heritage into their tummies. ☺ My sweet mother-in-law, Yiayia, gave me that book the year DH and I married. She has the same one, and I sometimes cull through hers to read her notes.
I think this one has the prettiest colors on its cover. I like the name of it, too, though that's not why it's one of my favourites. This one has recipes that I don't use that often, but I will forever treasure it because of the inscription on the inside.

When I was growing up,
I was addressed by both my first and middle names.
Warms my heart to chat with family who still call me by both. ☺
While I love this cookbook, it's not my most favourite. That is reserved for one that sits atop my kitchen counter, its black binder worn and unassuming. When I open the pages, each one in its own plastic protector, I'm instantly transported to my childhood.
Whenever I want comfort food, this is the cookbook for which I reach. All the aromas of my childhood waft through my memories as I scan the pages of this book. As the opening page relates, Mom created this book from all the recipes found on the little handwritten cards in her Recipe Box. I can find family favorites: Chicken and Noodles, Chopstick Cha-Cha, and Ritz Delight. There are even recipes that make me laugh as I recall their family infamy. I doubt Mom will ever live down the night she served Shipwreck to us!
I'm transported back in time with memories of family and friends warming up my mind like an oven preheats for baking, as I find recipes for my Grandpa's German Peppernuts, or Dema's Refrigerated Sugar Cookies (still haven't found a better recipe!). While most have no idea what opening this cookbook can bring forth, I understand the lure and love that is held in its pages. That's why cookbooks are my Favourite this Friday.
Do you have a favourite cookbook?
Why is it your favourite?
Happy Friday!