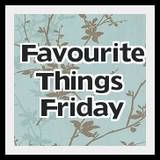 Today, my favourite for this Friday is donuts. Donut or doughnut, I love them all. I grew up in a sweet family that also loved their sweets. I doubt it was every Sunday; however, I have many memories of stopping by the donut shop after church. Oh, the selections!
There were basic glazed, chocolate iced, and strawberry iced with sprinkles. I always felt grown up and fancy eating a French Crueller. Bavarian Creme was scrumptious, but nothing as yummy to me as a Lemon-filled donut. The tart lemon filling bursting into my mouth surrounded by the sweetness of powdered sugar. Mmmm!
Sometimes we'd stop by the donut shop just for an afternoon sweet. This was an opportunity to try Bear Claws and Apple Fritters, or the ever-delicious Blueberry Cake donut. I think to this day a Blueberry Cake Donut is my absolute favourite!
My passion for donuts continued through my teen years. When I got my driver's license, I stopped every morning at the local Daylight Donuts.
During my junior year of high school, I ate a dozen Donut Holes (glazed or cinnamon sugar) and drank a Dr. Pepper. Every. Single. Morning. Sorry if you're just now learning about this Mom. And, kids, if you're reading this, "Momma, does not recommend a daily diet of donuts!"
When I moved to the South, I did not have the comfort of my familiar donut store; however, I've acquired a taste for Krispy Kreme donuts. And you'd better believe that the brakes screech to a stop when that neon
Hot Now
light glows. Krispy Kreme glazed donuts melt in your mouth. It's sugary goodness that's worth the wait in line.
In case you're salivating through this post, go and get you a donut. If you need an excuse, today is National Doughnut Day. This is the 73rd Doughnut (or Donut) Day celebrated for the Salvation Army Lassies. You can read about it here:
The Salvation Army Blog
I need no excuse for a donut. Think I'll rouse my troops and go celebrate the day with a donut!
What's your favourite donut?
Will you celebrate National Doughnut Day?