For those of you following the Rogalske's,
I've added a link on the right sidebar.
Give it a click for updates on Kristi's condition.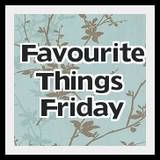 It's been so long since I've posted for FTF, my fingers hardly no which keys to type! If you are unfamiliar with Favourite Things Friday, our lovely
Shay at Quilting in My Pyjamas
hosts this fun Blog Hop. Just write up a post about your favourite. Doesn't matter what it is, tangible or not, declare it a favourite and link up with us. Be sure to visit
Shay's blog
and read all the favourites for this Friday!
My favourite for this Friday is my new Privy...the Powder Room, WC, Lavatory, Comfort Station, le Toilette. This tee-niney room is one of those projects that ignited from a tiny 'Aha!' spark. It took a couple of years from start to finish, because life got in the way. I'm so glad it complete!
With three children in a neighborhood with lots of playmates, there's always someone who needs a bathroom break. All the privies are located on the back of our ranch-style home, so that meant traipsing through the entire house - muddy feet and all - for a potty break. One day, DH and I were discussing how nice it would be to add a Guest Bathroom. We were standing out on the back drive, watching the kids ride scooters, when we realized we had some under-utilized space that might just work. After a few measurements, our realizations became actuality.
Using the space behind the kitchen, we knocked a hole in the wall and began the process of making it over into a Privy. I love everything about this room...from the just-right size and paint color (Valspar - Fairmont Penthouse Stone)...
To the hardwood floors that seamlessly blend with the rest of the house...
To the mirror and vessel sink...

To the pretty cabinet...
To the artwork...
What I love most is that it is finished!
What's your Favourite Thing?
Have you re-purposed any space in your home?
Happy Friday!