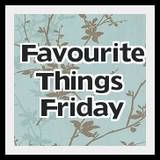 The week is coming to a close and March has arrived! Tomorrow I'll see my sisters and parents as we celebrate one of life's greatest joys...a birthday. I'll post more about that next week.
For now, it's time to play Favourite Things Friday with Shay aka Mrs. P. over at
Quilting in My Pyjamas.
Do you have a Favourite? You can play along too. Hop over and link up!
My favourite today is another of my life's greatest joys...books. Not just any books, mind you. It's no secret I love to read; however, I especially love to read books from long ago. It matters not the genre. I love deciphering the language and prose written so eloquently. I have my MIL,
Yiayia
, to thank for turning my attention to books of yesteryear. She graciously allowed me to borrow a book,
Freckles
, written by her favorite author,
Gene Stratton Porter
. I immediately feel in love with the characters and beautiful story.
This one instance led me on a quest to find and read the books that unobtrusively, and somewhat lonely looking, sat on the shelves of the local library.
Once hooked, I began to fill my own shelves with the lovely gilded lettering and worn covers I found. The upside of enjoying old books?
No one else seems to want them, or finds the value in them. You can purchase them for next to nothing at tag sales and Salvation Armani!
While I enjoy the fictional beauties, I've found great appreciation in the textbooks and non-fiction of yesteryear. I believe everyone should have (and read!) a copy of
Amy Vanderbilt's Complete Book of Etiquette,
and discover the beauty of gracious living. Whether or not you can install a butler and housekeeper full-time, you'll certainly appreciate the excellent advice on good guest behavior.
While some readers might find these informative books boring, I heartily disagree. They are so jam-packed with interesting, and often humorous, facts! Who doesn't find this passage from
Everyday Foods
(1944), amusing...
Even though breakfast is the simplest meal of the day, the first time that you assume the full responsibility for preparing and serving the family breakfast you will discover that it takes both thought and skill to have everything ready within a reasonable time, done to a turn, and served to a queen's taste, with the cook a smiling, gracious, and unflurried hostess.
So much information can be gleaned from these 'old' books. I recently was gifted a boxload of books from a sweet neighbor who is downsizing his library. I was thrilled to find this treasure at the bottom of the box...
I cannot wait to dig into this book! I've been wanting to read it for quite some time. What I really enjoyed while scanning the pages, was coming across this...
Isn't that simply astounding? This book has been lovingly cared for over 100 years! Makes me wonder who else enjoyed leafing through the pages of Mr. Bunyan's message. I love these kind of discoveries. That's why books of yesteryear are one of my Favourite Things.
What do you like to read?
Do you collect old books, or do you prefer newer publishings?
What is your all-time favorite book?