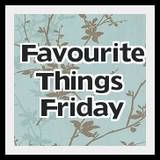 It's hard to believe we've made it through the week for another Favourite Things Friday. Do you have a Favourite? Link up with us at Shay's
Quilting in My Pyjamas
!
My favourite this Friday is just a tiny little something that sits in a drawer waiting to be held. With its well-worn wooden handle, it has helped to provide nourishment to my family many nights a week. Riveted to its handle and offshooting to the base in linear perfection are two arms forged in sturdy stainless steel. The waffle design on the circular base is not just for pretty looks. It aids in larruping root vegetables into fluffy and creamy goodness.
I love that my favourite came from an estate sale. There it was lying atop a counter amid a mish-mash of rusty old utensils.
I culled it from the pile, brought it home, and washed it up for its first use. While preparing my meal, I imagined the Momma who lovingly used it; creating meals for her family throughout the years. With this apparatus, she was able to stir and whip up some memories for her children. Perhaps there were days when she used this gimcrack to beat out frustrations of an exhausting and trying day. As I sometimes do, maybe she used this manual device to whack crackers into crumbs. Through this one seemingly insignificant kitchen apparatus, we are connected.
That's why my Vintage Potato Masher is one of my Favourite Things.
What do you use for making mashed potatoes?
Do you like vintage kitchen utensils?
Happy Friday!