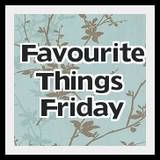 Come play along with us at
as we reveal our Favourites this Friday!
Shiny cars, cowboy boots, Lionel trains, Swisher Sweets, Peanut Clusters, and Boxcar Willie...What do these things have in common? They all generate memories of my Grandpa. So many of my childhood memories include him!
Grandpa was passionate about his cars. As a young man, he opened a Body Shop, and honed his craft of repairing dents and dings, restoring those beauties to their glory. He had a penchant for pinstripes, and the steady hand that was required to paint those linear ornaments that adorned the side-length of a car. My first recollection of one of Grandpa's cars...and he had many...was a beautiful Metallic Maroon Monte Carlo. Oh, she was a beauty! Grandpa would take her out for a drive just for the sheer love of being behind the wheel of a pretty car. Upon returning home, he would park her in the carport, and wipe her down and dust her off with his trusty chamois...all while wearing his coveralls and cowboy boots.
Grandpa was a cowboy at heart. He loved everything about the cowboy lifestyle. I laugh about it with my Mom and sisters, but I'm sure Grandma just pitched a fit the day Grandpa came home and said, "Hon, I've sold the house. We're moving to the country."
I loved visiting Grandpa on the farm. At that time in my life, they were about 100 miles outside our city. Grandpa would come to pick me up for a visit. It was a long drive for a little girl, but I knew there would be a treat at the end of the trip. We'd stop by the Peter Pan Ice Cream Shop, where Grandpa would stroll in, cigar (Swisher Sweets were his favorites) in the side of his mouth, and announce his granddaughter was visiting that week. It was such a tiny town, it made headlines in the Society Pages. :o) We continue on to the farm. Grandpa's horses were beautiful creatures! Big Red was my favorite. He'd saddle her up and we'd ride around. Even though I remember being deliciously scared of sitting so high in the air, I can also recall Grandpa's strong arms around me.
Years passed and Grandpa (and I'm sure Grandma) tired of the country life. We were thrilled they were moving back to the city! They bought a cute little house on the west side of town. I have so many memories of watching Grandpa in that house. He was meticulous with the yard, spending hours to ensure it looked its best. They had a little brick courtyard in the front that accepted the harsh Kansas sun all day. Grandpa bought some paint, and using those steady hands, he painted every one of those bricks to restore the beauty of that little space. The best memories are held within the walls of their home.
When staying over, you knew you'd be treated like a princess. Grandpa would look around to ensure Grandma wasn't watching, and then pass me a candy. Sometimes it was a Butterscotch or Snickers bar, but most often it would be a Peanut Cluster. The sweet chocolate would melt in my mouth delivering the salty sensation only the peanuts could provide. Grandpa loved to give me sweets. He also like to tease me. Grandpa was big on practical jokes. He had this great guttural laugh that would rise up from his belly and explode from his lips. He was ornery, but he was so much fun to be around too.
In his later years, Grandpa developed his hobby of Lionel trains. He built a large platform in his basement, and spent hours creating the ideal setting for his train to travel. No wonder he enjoyed listening to Boxcar Willie. :o) Grandpa is the only man I ever knew who could make the sound of a train whistle, curling his lips just so, and blowing a realistic-sounding horn. We all tried, but no one in our family has ever been able to master that trait.
Grandpa has been gone two years this week. The last strong memories I have of him still make me smile, and sometimes even half-laugh. In the middle of his Alzheimer's diagnosis, my sisters and I traveled back to visit with Grandma and Grandpa. Grandpa had a hard time that weekend, as we were looking at pictures from years past. It confused him. At that point, he thought Grandma was the cleaning lady, not his wife. As we were leaving, we told Grandpa to be nice to 'that woman' taking care of his house. He stood there a moment and finally said, "I'll think about it."
Grandpa could always make me smile and laugh. That's why this Friday, Grandpa is my Favourite Thing.

Grandpa and DH when they first met.
Two of my favorite men! :o)