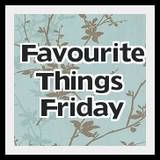 Here is an invitation from
Shay at Quilting in My Pyjamas
, hostess of FTF:
Welcome to Favourite Things Friday for another week. If you'd like to link up and share one of your favourite things , write your own post showing off something you love and link up at Quilting in My Pyjamas. I love to see what people choose each week and anyone can throw up a post and link in.
Here is my Favourite...
I have a little mahogany box with glassed lid that sits in my living room. Lined with black velvet, the box holds a few treasures and mementos. There is one item that sits in the center of the box that is almost priceless. This tiny bibelot is tangible proof that I was Momma to a sweet little baby boy.
I can turn this treasure over in my hand and feel the tiny toes that curled when stroked. The chubby little foot shows every little crinkle and wrinkle this chubby baby boy had acquired thus far. My sweet souvenir of the past is one I relish, for I remember very little of this time. It's not often I admit it, because it makes me sound like a horrible mother. When Son#2 was born, life was perfectly skewed for me. Thanks to a debilitating condition known as Post Partum Depression, the first year of his life is a complete blur. There are snippets and bits I remember; however, for the most part, I cannot recall those beginning 12 months...nor can I get them back.
Early on during that time of meager existence, someone gave me a DIY Sculpture Kit. What a perfect way to mark Month Three of Son#2's life! With the help of DH, we put his podgy appendage into the quickset gel, poured the plaster into the mold and waited. Hours, maybe it was days, later we peeled back the mold to find an amazing likeness of Son#2's foot. It was breathtaking for this Momma to see it. It still is.
Thank goodness for faith, loved ones that care, doctors that diagnose, and Zoloft. I recovered from my depression and jumped back into my life with both feet...all the way to the deep end, swimming through the fun and busy moments of raising two toddler boys. My memento of the first year of my second son has been held in my hands many a time. It bears grubby marks and tear stains as this Momma tries to remember more than just snippets of that temporal length. I'm forever grateful to have the evidence. That's why the Chubby Little Foot Sculpture is one of my Favourite Things.
Proof of Son#2's Baby Days
Now hop on over to
QIMP'
s and play FTF with all of us. Even if you don't write a post, hop around and see what Favourites there are this week. Be sure to leave some comment love. :o)
Happy Friday!