Seams Inspired celebrating her 40th
wearing an Animal Print top
given by JuJu, in honor
of officially becoming a 'Cougar' ;o)

Yesterday was much too much fun! Thank you for all the birthday wishes. They make my heart smile. :o) In keeping with the birthday theme (I promise I'm almost finished expounding on this 40th birthday! LOL), today's Favourite Things Friday is to feel loved.
Yesterday, I felt so loved by my family and friends that I'm sure those yummy emotions will carry me through to next year. Feeling loved makes your life easier, your step a bit lighter, and your heart oh-so-happy. It's my Favourite today.
PS...
I have one more birthday post I'm working on, and will reveal tomorrow. My Mom and sisters gave me the best birthday party ever last weekend! If you've never given Thrifty gifts, you'll want to stop by tomorrow. These ladies know how to throw a 40-Thrifty-Gifts party with fabulous style! :o)
Cup holder made by Son#2
for his Momma's Antique Copper Measuring Cups.
He even painted it to match the kitchen cupboards!
Pretty excellent gift from my 10 year old, right?!

I am so loved!
My 40th Birthday card from my kids and husband.
We pretty much always make cards for one another instead of purchasing.
I love that! :o)
Click to enlarge and read. :o)

Dec. 10th...Judges 2:6-23, 6:1-6, 11-8:28...symbol...Clay Water Pitcher
Blog hopping with...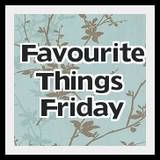 AND I'M THRILLED TO JOIN...
<
center>