This past weekend was, by far, one of the best I've ever had. I spent it with my Mom and sisters. Two days full of Girl Fun: Food, Giggles (more like gut-busting laughter), and Shopping. We have a passion for Thrift Shopping.
We scoured all the thrift stores, consignment shops, and garage sales we could find. And what deals we scored! Can you believe I only spent $1.75 total on all of this???!!!
My favorite is the Dough Bowl for 25¢. I actually found two, but grudgingly being the kind and gracious sister that I am, gave it to JuJu. As a thank you, she cleaned and polished up both bowls. The Owl is glass/ceramic that I think is a spoon rest. That's how I plan to use it. What would you do with him?
I had to have the Corny Lotion Bottle! My Grandma Gertie had one that I remember being filled with a prettily scented lotion. I think it's an Avon bottle. Won't it look good filled with some Golden Vanilla lotion?
I just liked the Green Pumpkin. I like that it can be used throughout the entire Fall season, and carry on through until Thanksgiving. I'm planning on it adorning our Thanksgiving table this year.
That's not all I found. I scored big time with this outfit! Both pieces were half-priced at a fabulous consignment shop. The total cost: $10.00!!! (Sorry for the blurry snap. My photographer was a little shaky that day. Perhaps because of my fabulous skirt and top?*wink*)
The Challenge
Momma and the Sisters decided this year we would have a Thrifty Christmas. Here are the rules:
1. Any purchases must be made from a Thrift Store, Yard Sale, or Consignment Shop.
2.
Any recycled present (Re-gifting) is allowed.
3. Gifts must be in great condition. Just because it's Thrifted junk doesn't mean it can be junky.
4. Don't just buy anything. Do your best to try and find something that's on everyone's list.
5.
Gifts can be supplemented with store-bought items. For example: JuJu found a Barbie Fashion Plates toy for LittleGirl. She is going to supplement with paper and colored pencils.
6.
Gifts can be handmade using fabric from your stash.
This only applies to me in my family. LOL!
That's it. Doesn't it sound like fun? It will be an excellent way to keep your budget under control while using those creative juices! Would you like to join in with us? If so, here's a couple of buttons to post on your blog.
I'll be adding a Thrifty Christmas page to my blog this week, so you can link up there too. Leave me a comment and let me know you're going to play along. Each week I'll be posting my Thrifty Christmas finds to inspire you! Happy Thrifting! :o)
And one more thought...
Joseph and Mary must have been Thrifty too. They recycled a manger for the baby Jesus! :o)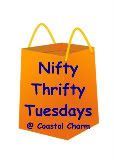 I'm linking up with Coastal Charm today! If you're visiting welcome! Leave me a comment so I can stop by your blog too. :o)