This is my short and sweet version of Favourite Things Friday.
This is one of my all time favorite videos of LittleGirl.
(I know, I know. I promise I love my boys just as much, and will be featuring them soon!)
Anytime I need a smile, I watch this. I love that she's finding her groove.
I love that she's calling my name. I love that she loves the music and the song.
I love that I left the dirty dishes in the sink to capture this sweet baby moment. :o)
That's why LittleGirl's "Mayberry" video is one of my Favourite Things.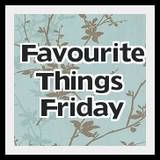 Want to play along with us? Hop on over to
Quilting in My Pajamas
blog and link up with your Favourite! Happy Friday! :o)