Happy, Happy Birthday to the love of my life!
I love your humor, your kind and gentle heart, your strength, and compassion.
You are my love and my best friend.
I wish you the best day filled with happiness and joy.
Okay Bloggy Friends, if you'd like to wish DH (which stands for DearHusband, by the way) a Happy Birthday, send him a message or e-card here: Happy Birthday Wishes, DH!
Or leave him a note in the comment section. I'll be sure he sees it. :o)
Happy Monday!
If you're visiting today, Welcome!
Please leave me a comment, so I know you've stopped by for a visit.
If you're a new follower, let me know. I'll follow you back! :o)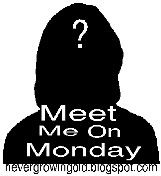 1. How many TV's do you have in your home?
We have three...three too many!
2. What is on your bedside table (nightstand)?
Favorite photos I took of my children, my little froggie candleholder, my Bible, and 3 little clay jars that my kids made.
3. How many pair of shoes do you own?
About ten...most of them black. :o)
4. Can you change a flat tire?
Absolutely! My Daddy wouldn't let me drive my first car until I knew how to change the oil and change the tires. I thank him a lot for that one. It's saved me a ton of money over the years!
5. Do you prefer sweet treats or salty treats?
I typically lean toward Salty treats; however, I have a passion for Skittles (original only!). I've been known to hide my Skittles stash from the rest of my family. :o)