I think I'm one step away from calling the producers of Hoarders, Buried Alive! I'm completely overwhelmed by all the fabric and notions and patterns stuffed into my room. My sweet friend, Lisa, and I pulled everything out of my armoire on Saturday night.
Lisa sorted and folded all those yards of fabric. What a treasured friend she is to help me! Thanks, girl! :o)
I prefer not to work on Sundays, so I just kept my eye off that room yesterday. This morning, I realize I have much to do. And you know what's really sad? I have more fabric and patterns and notions to sort. There are still more bins to pull from their hiding places...under beds, in trunks, in LittleGirl's closet. GASP! Okay,
The Train to Crazy
is having a
De-Stash Challenge
. Andrea, I'm officially signed up! :o)
It's going to be a busy Monday! It's my cleaning day, errand day, and DH has a doctor's appointment. I looked over at my calendar and I have an appointment late this afternoon. Wish me luck as I try and get it all done. I need a Dr. Pepper. The coffee isn't going to cut it today.
If you want to join the De-Stash Challenge, pop on over to
The Train to Crazy.
Even if you aren't up to the challenge, stop by and visit. There are lots of great things to see!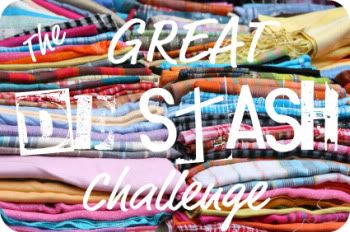 I Took The DeStash Challenge Button