Be sure to check back on Wednesday. I'll be having a Giveaway!
I love Mondays! They're a chance for a fresh start to a new week. I don't know that I'll have time to sew for myself today. Lots of errands must be run. At least I know I'll get my sewing fix by stopping at the fabric store.
Son #1 likes these little creatures called Pikmin. They're from one of his video games. He's used his allowance in the past to purchase these; however, he's learned frugality. Yeah!
He figured out it would be more cost-effective to make these instead. We're going to HobbyLobby to purchase felt to make two of these little guys. Son #1 has a lot of faith in his Momma. He thinks I can just whip these up. I'm flattered, but a little apprehensive. We'll see how it goes. Hopefully, I'll have some snaps to post later this evening. :o)
I'm linking up with Mailbox Monday, hosted by Simply Stacie, This Mama Loves Her Bargains and A little of this A little of that…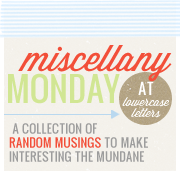 And for Miscellany Monday...
1. Why do my kids think helping the neighbors clean is fun, but groan when they're asked to pick up their rooms?
2. I'm really hungry for Gooseberry pie. Wish I could find some gooseberries to make one.
3. If I can help others design a room, why can't I wrap my head around designing a room for myself?
Please stop by and visit the others who are participating. You never know when or where you'll be inspired! :o)