Giveaway ends July 21st...5 chances to win
My nephew, turned four this week, so I wanted to make him something in celebration of his big day. He is the perfect age to enjoy an Eye Spy Bag! These can be made using scraps of fabric and finding some little items around the house to fill the bag.
While sewing the bag together, I enlisted Son#1, Son#2, and LittleGirl to scour their rooms for trinkets no bigger than a Matchbox car. If you have little ones helping with this project, it is important to give them an idea of the size of things you want. Otherwise, you'll end up saying, "No, that's too big." a hundred times. :o)
They each came back with a handful of items. We eliminated a few and amassed a pile. After reinforcing all my stitches...
very important for this project
...I added the trinkets and filled the bag with poly-pellets. You can find the pellets at any craft store. I purchased mine at HobbyLobby, and found them on the doll-making aisle.
I stitched up the opening, and Voila! the Eye Spy Bag was finished. Well, I like to make a drawstring pouch to carry the bag. It's not necessary, but I like to do this when I'm making these for a gift. It's the 'gift wrap.' :o)
I also like to include a list of items that are in the Eye Spy Bag. My favorite way of listing the trinkets is to write a poem. You know, like they do in the I Spy books. Here's what I wrote for my nephew's Eye Spy Bag:
What do you see as you will spy
A game played with your little eye
Can you spot the round green ball?
How about the red shoe small?
Perhaps it's "silly," "cool," or "fun"
Finding BB's three, two, or one
Keep on looking for stars and boots
Search for "cents" among the loot
There's a yellow pick for a guitar
Don't forget the little orange car!
Find the "R" to start your name
Or a spoon in this fun game
One pink heart and one butterfly
A big red car races right by!
Seek the turtle who wears a hat
Find the button, silver, not black.
You can play this game once or twice
Playing with friends is always nice!
Amusing fun for you and your friends
We hope that your spying never ends!
Every child I've ever given an Eye Spy Bag has loved it. There are many ways to play with it. A child can search on his/her own. You can take turns and play this way: You find an item. Then say, "I spy with my little eye, something ___________." Shake the bag to 'lose' the item, then hand the bag to the next player so he/she can find the item.
These make a great travel toy. Or you can keep it in your Appointment Bag, only bringing it out when you have to wait for a Doctor's visit or another quiet place. These bags really do contain hours of fun. While I use my own self-drafted pattern, there is a great tutorial at Instructables
if you want to try to stitch up your own Eye Spy Bag.
Linking up with...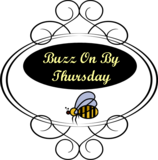 >